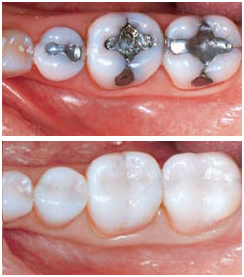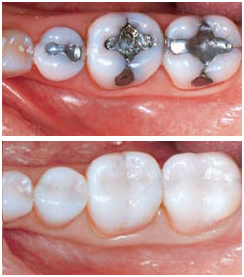 Over the past several years, our Los Angeles dentist and patients have seen traditional metal fillings gradually phased out and replaced with white ones. Apart from being free of mercury (which is a concern for many,) are white fillings really better for your smile?
Less Invasive to Your Tooth
To place a traditional metal filling, our Los Angeles dentist would have to carve out wedges inside of healthy tooth structure to "pack" the metal amalgam into place and hold it there. Not so with a white filling. These restorations use materials that bond directly with tooth structure, so that less of it needs to be removed. As a result, they're smaller and less invasive.
Better Aesthetic Options
Because white fillings blend in with your smile, they can be placed just about anywhere in your mouth, such as front teeth, back teeth, on the sides of teeth, etc. That means if you have a cavity on a front tooth, you can restore it with a non-invasive and cosmetically pleasing restoration.
If white fillings weren't available, you wouldn't want a silver filling at the front of your smile! The only other option would be something more extensive, such as a crown.
Each composite (white) filling is custom so that it matches the shade of the enamel around it.
More Like Tooth Structure
When you eat and drink, your teeth adjust to the temperature changes. This can include contracting or expanding when foods are hot or cold. Metal does this at a different rate than teeth, which can encourage leakage or cracks around it, leading to failing dental work. With white filling, the material closely mimics that of enamel to minimize any accidental leaks or cracking.
At Crystal Dental Centers, our Los Angeles dentist wants the best for your smile. That means combining technique, technology, and patient preferences together to create a customized treatment plan that fits your unique oral health needs. Call us today to schedule 213.748.8448 or visit www.CrystalDentalCenters.com for further information.