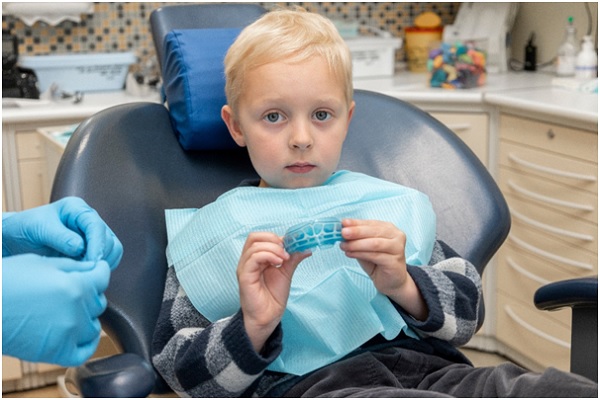 According to the American Association of Orthodontists, over 5 million Americans are undergoing some form of orthodontic care. It is particularly common among young children and choosing the right form of treatment for their tooth defects at a young age is highly important.
When speaking of orthodontics, metal braces are often the first thing to spring to mind. For a long time, they were the only method of teeth-straightening, but they often pose many limitations to daily living. The brackets in braces can provide discomfort to children due to their tight grip on the tooth, as well as other factors like restrictions in eating habits.
While traditional braces come with their benefits, your child may be unwilling to wear them, in which case Invisalign treatment should be considered as it is the most popular and effective alternative for braces. However, make sure you call your dentist in Los Angeles before making a final decision on which form of treatment to pursue.
What is Invisalign?
Invisalign is the most popular brand of clear aligners. Unlike metal braces, they are nearly invisible while you're wearing them. They are custom-made for your teeth, with an x-ray, photographs, and a bite registration all used to form a digital 3D image of the patient's teeth.
The data from the image is then used to customize the patient's Invisalign. They allow a lot more flexibility than braces, as they can be taken out and reinstalled at will while eating, brushing, or to enable you to clean the trays.
Is Invisalign the best option for children?
Each orthodontic case is unique and it's advisable to contact your dentist in Los Angeles before making conclusive decisions. For example, a more serious case of crooked teeth can only be remedied by metal braces and Invisalign treatment might not do an appropriate job. However, in less severe cases, here are some reasons Invisalign may be a better option for your young one:
Fast and effective

Contrary to the popular belief that braces work faster, Invisalign treatment works equally as fast and is equally effective at correcting minor tooth defects. A difference can only be noticed in more serious cases.

Convenient

One of the best benefits of using Invisalign is that they are easy to wear and remove at any time, unlike wired braces which require a trip to the dentist. This is great for children as they can remove them while eating or brushing and also means fewer trips to the dentist office.

No major lifestyle changes

Wearing braces for kids requires a lot of adjustments including how they play, sleep, and the kinds of food they are able to eat. Invisalign is more flexible and less fragile than braces as they can be removed at any time to eat and there's no risk of damage while sleeping or playing.

They're easy to maintain

Cleaning braces often is important to oral hygiene. Invisalign can easily be cleaned at home, even by your kid! All they need to do is remove the braces and brush them gently with a soft toothbrush and lukewarm water and they're as good as new again.
A beautiful smile goes a long way. If your child is has crooked teeth or any other orthodontic issues, consult your dentist in Los Angeles to determine which treatment would be best for them. For further information or to schedule an appointment, please contact Crystal Dental Center at 213.748.8448 or visit www.CrystalDentalCenters.com to learn more.