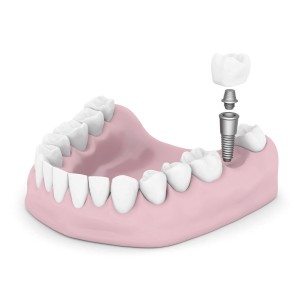 A dental implant is a titanium "root" that is used to support restorations designed to replace missing teeth. It can support a number of dental prostheses, including crowns, implant-supported bridges or dentures. Practically all dental implants that are in use today are root-form "endosseous" implants. They look similar to an actual tooth root and are placed within the bone (end being the Greek prefix for "in" and osseous referring to "bone). The jawbone accepts and "osseo-integrates" with the titanium post. This makes the implant resemble the look and feel of a natural tooth.
Dental implant surgery involves a procedure that replaces tooth roots with metal, screw-like posts—substituting artificial teeth that look and function much like real ones for those teeth that are damaged or missing. Dental implant surgery can be a welcome alternative to dentures or bridgework that doesn't fit well. Dental implants are also becoming the treatment of choice for replacing missing teeth.
How is implant surgery performed?
The nature of the procedure depends on the type of implant and the condition of the patient's jawbone. All dental implant surgery occurs in stages and may involve several procedures. The major benefit of implants is solid support for the patient's new teeth—a process that requires the bone to heal tightly around the implant. This healing takes time, so the process may go on for several months.
Dental implants are surgically placed in the jawbone, where they serve as the roots of missing teeth. Because the titanium in the implants fuses with the jawbone, the implants won't slip, make noise or cause bone damage like fixed bridgework or dentures have a tendency to do. In addition, the materials can't decay like one's own teeth can.
Who are candidates for dental implants?
Statistics show that 69% of adults ages 35 to 44 have lost at least one permanent tooth due to an accident, gum disease, a failed root canal or tooth decay. By the age of 74, 26% of adults have lost all of their permanent teeth.
Twenty years ago, these patients would have had no alternative but to have a fixed bridge or removable denture to restore their ability to eat, speak clearly and smile. Fixed bridges and removable dentures, however, are not the perfect solution and often present other problems. Removable dentures may slip or cause embarrassing clicking sounds when a person eats or speaks. In addition, fixed bridges often affect adjacent healthy teeth, and removable dentures may lead to bone loss in the area where the tooth or teeth are missing. Recurrent decay, periodontal (gum) disease and other factors often can hamper the effective of fixed bridgework. As a result, fixed bridges and removable dentures usually need to be replaced every seven to 15 years.
For those patients who are missing permanent teeth, dental implants can be an effective long-term replacement option, especially if the patient:
has more one more missing teeth
has a fully-grown jawbone
has adequate bone to secure the implants to have a bone graft
has healthy oral tissues
has no health conditions that will affect bone healing
is reluctant or unable to wear dentures
wants to improve his/her speech
is willing to commit several months to the process
Dental implant surgery requires special expertise.
Dental implant surgery is a relatively new specialty, so it is important to have a dentist who is trained and experienced in this area. Crystal Dental has several dentists on staff that are specialists in implant surgery. We invite you to schedule an appointment at one of our three locations for a free consultation. Contact Us!