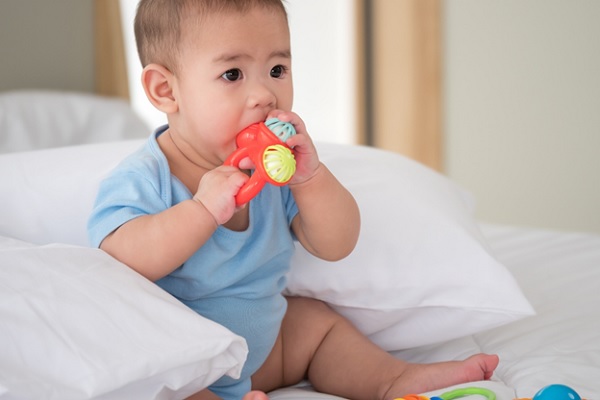 Even though teething is a stage that every newborn goes through, it can be a stressful time for both the parent and baby. When a baby is teething, new teeth are erupting through the gum tissue which can be very uncomfortable for the baby. To help you through the teething phase, your favorite pediatric dentist in Los Angeles, Dr. Moradzadeh, is here to help. If your baby is experiencing teething and you are wondering how to ease their pain, below are a list of tips to comfort them.
What is the typical teething timeline?
Children's teeth start forming before birth. The teething process usually begins in infants between 6-10 months of age. Between this time, the first lower center primary teeth emerge from the gums. Although all twenty baby teeth typically appear by age three, the order and speed tends to differ between individuals. By age six, children's permanent teeth begin to appear. This process continues until about the age of 21, when the wisdom teeth emerge, if jaw space permits.
Tips for Comforting Your Teething Newborn:
Gently massage your child's gums. Applying gentle pressure to your newborn's gums can help alleviate their discomfort. Be sure to thoroughly wash your hands before massaging or use a cold soft washcloth.
Keep away unwanted bacteria. Begin cleaning your baby's mouth during the first few days after birth by wiping the gums with a clean, moist gauze pad or washcloth. As soon as teeth appear, decay can occur if you do not clean your child's mouth thoroughly. One form of serious tooth decay found in infants and toddlers is called "baby bottle tooth decay". This is caused by frequent exposure to liquids that contain sugar like milk, breast milk, formula, and fruit juices. These sugary liquids can pool around your child's teeth, causing plaque and bacteria build up.
Allow your child to chew on cool teething rings or toys specifically designed to help alleviate pain. Be sure you don't leave the objects in the freezer for too long, though. You don't want the toy to be frozen.
Try giving your baby a foot massage. Studies have linked nerve connections between the toes and jaw area. If your baby is in immense pain, try massaging the points found on either side of their baby toes as well as above the nail bed on the big toe.
Provide your child with a lot of extra cuddles. By creating a calm and safe environment for your newborn, they will feel more relaxed, and should be able to fall asleep easier.
We know that teething can be a stressful time, so don't forget these tips if your baby is struggling through the teething phase. And don't forget that babies should have their first dental appointment within six months of the eruption of their first tooth. If you need to find a pediatric dentist for your infant, or schedule your child's first dental appointment, please visit www.CrsystalDentalCenters.com or call 213.748.8448 for any questions.